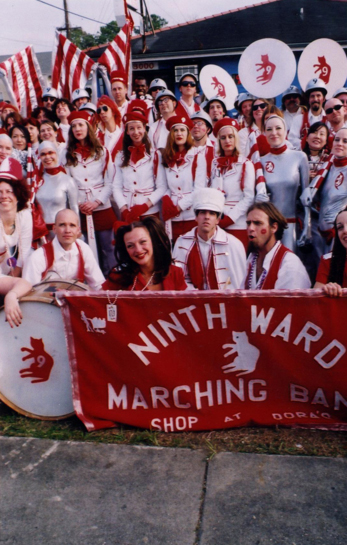 For every band that has "made it" there is a community of artists that helped that band grow.
Quintron and Miss Pussycat
are no exception. Except, the creator of the Drum Buddy and his puppeteering wife have difficulty tracking down their community these days. That's because it went through hell on earth - courtesy of Mother Nature, a Republican Guard negligent of its under class, a corrupt city politic, and racial tensions fueled by ignorance and poverty.
New York Night Train
has done a terrific job shining a light on that music community in its third issue. I remain impressed with
JT
's NYNT and I think you will be too. Go check it out for an in depth look at New Orlean's Ninth Ward Underground music community - how they dealt with Hurricane Katrina and how they are dealing with the aftermath. Be sure to read the Oral History section which regretably in this issue is not download-able in mp3 format. Nevertheless Jonathan Toubin's writing skills at capturing the voice of these musicians is top notch, particularly the hilarious vernacular of
MC Trachiotomy
:
Just after most recently turning 80 years of age. They say the woist herracanne ever was gown hit Neworleans floods ever thang wind all'at. Nah look here, I aint neva left fa no storm. I was trew betsy. I was trew Camille. I been trew all at. Ma dawgs was wit me anyhow. I help load up H.F.S, w/Stella & Man~Ting, mz.Fis wit her Doris, and Chris freaky fryer Hair dyer. Cause they was headed for the hills ya undastand. I was in. Where was I gwanna go anyhow?
The Oral History mp3 downloads are missed but NYNT makes available some ninth ward
music
. I like the lot, but the Detonation songs stand out because they rock and because the band broke up as a direct result of Katrina. Crooks and Nannies'
Into the Water
has acadian flavor. It sounds like something you might hear on AM radio as you drive across the Atchafalaya Swamp, maybe something eminating from Fred's in Big Mamou on a Saturday morning. EP's
Parle' Gras
has some Funky Meters influence, oh yeah I like it me too. Fun!
What's not entirely fun (although sometimes funny) are the horror stories these artists tell. Go, read for yourself, my friends.
Miss O
:
On our tour, Walt, Jay and I would sadly joke about every city we passed through, "Nope, this isn't the city, I could never live here." The truth is, the last remaining threads of our lives in New Orleans seem to be better than any other home we could imagine in the states. But in the near future I think we'll think about New Orleans as a base to travel from, instead of home. And the feeling that we are homeless, in constant search of the city we adored passionately, I think will continue for years to come, if not for the rest of our lives. Despite all of this, there is a shred of hope in my heart that things won't turn out as bad as our minds imagine... After all, the world is a crazy place.

*photo courtesy of New York Night Train - Lefty Parker Collection